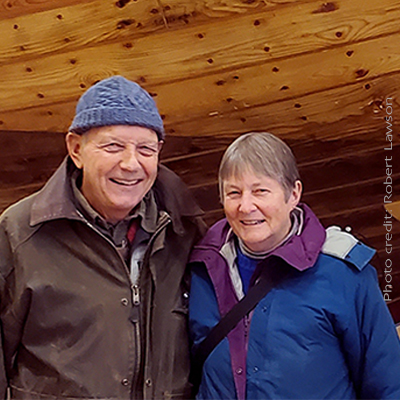 It's no surprise that Kaspar and Trish Schibli share a passion for sailing. Both grew up boating with their families, and together they have conquered some of the world's greatest sailing expeditions.
In the 1970s the Schibili's turned their passion into a working lifestyle when they established Sailtrend, a sailing chandlery, school and charter business, which is where they made their first connections to the Cove. The business started on Newport Avenue and then relocated to Oak Bay Marina, which is where Don Prittie, now the General Manager at Canoe Cove, worked at the time, "I met Trish and Kaspar in 1981 on my first day as Assistant Manager at Sealand of the Pacific at Oak Bay Marina. I went to Sailtrend to buy the best sailing boots I could find, which became part of my daily uniform."
Sailtrend was also where the Schibli's hired Brent Jacobi. Brent grew up sailing with his dad, who introduced him to Trish and Kaspar, "My dad bought gear from Sailtrend, and that's how I first met the them."
Brent worked in the retail store and rigged boats through high school and university, and later crewed for the Schibli's on a 6,500 mile race from Los Angeles to Japan. He has a deep appreciation for Trish and Kaspar, "They've been there for me in so many ways over the years. They introduced me to rigging and, once I graduated from university, I decided I would much prefer to work on boats than pursue a career in geology, which is what my degree was in. I owe them a lot."
Brent went on to establish a successful rigging business before joining Blackline Marine at Canoe Cove where, 20 years on, he is a partner and still loving his work.
Kaspar and Trish enjoyed the business of sailing, but the peak of the busy season naturally coincided with the sailing season leaving them with less time to enjoy the water themselves. After 23 years they closed the business and headed off to sea for a life of adventure. They set off in 1993 and, for the next five years, circumnavigated the globe via Japan, Australia, the Suez Canal the Mediterranean and the Panama Canal.
In 2005 they headed south and rounded Cape Horn, and then sailed north to Argentina, Brazil, Bermuda and the East Coast of North America before crossing the Atlantic to Scotland and Ireland. In 2015 the Cruising Club of America honoured them with the Far Horizon's Award, acknowledging their extensive offshore cruising expeditions.
Having travelled extensively throughout Europe and the Mediterranean, they have now left their boat overseas for fall and spring cruising, and return home to enjoy the beauty of summer on BC's Coast.
Recently, Kaspar and Trish have undertaken a new endeavour; the restoration of Skoal, a 26' spitzgatter. They call her their future 'daysailor' as she's a perfect size for them to continue adventuring closer to home as they get older.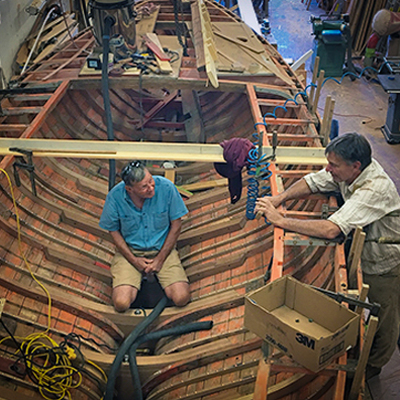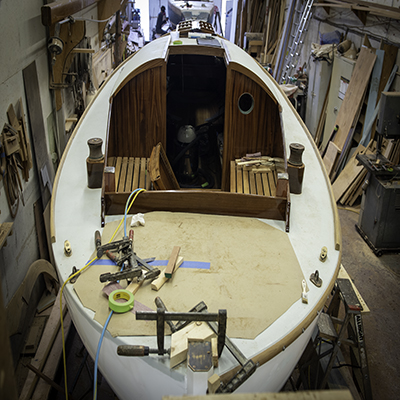 Built in Denmark in 1939 Skoal was brought to Canada in 1956. While the Schibli's didn't purchase her until 2015, she was very familiar. They'd known every owner she'd had since landing in Canada, and had sailed on her many times over the years – including in 1965 when Trish raced on her in the Maple Bay Regatta.
Upon inspection in 2018 it was clear that Skoal required a tremendous amount of work; she had to be abandoned or rebuilt. The Schibli's opted for the latter and brought her to Jespersen Boat Builders at Canoe Cove, where they'd had a boat built in the 1970s. "Canoe Cove really has the best set up," said Kaspar "You can get everything done that you need to all in one place, and it's perfect for boaters who want to do some of the work themselves."
They knew the team at Jespersen had the expertise to rebuild a wooden craft, and that they were welcome to be involved every step of the way.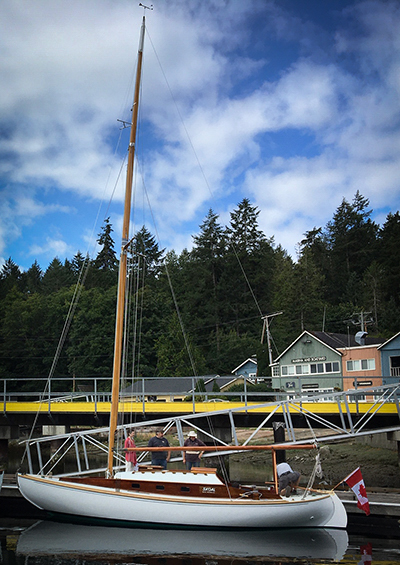 Skoal was completed in July and the Schibli's couldn't be happier with the results. Their adventures in sailing can now continue for many years to come.
Reflecting on their long history in the boating community in BC, they are appreciative of the many people they've met along the way, and it's evident that their impact and relationships run deep. Don Prittie is proud of their long affiliation, "It has been delightful to re-connect with the Schibli's on the reconstruction of Skoal at Canoe Cove. We now share an almost forty-year history; they are great people and good friends!
And for Brent Jacobi, the many years of friendship means a lot, "Having lost both of my parents this past year, they really are the only parents I have.'
The Schibli's have noticed how the industry has gotten busier; there are more boats on the water and houses and developments along the shoreline, but like their boat, their perspective is unique. As Trish said "Wooden boat owners have a special connection to these boats with so much history – it's a heart-felt love affair." Just like the Trish and Kaspar's long love of sailing.