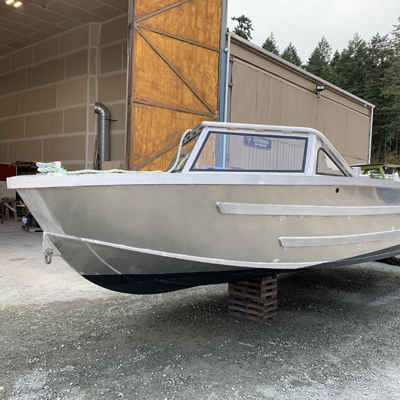 Reyse Marine recently delivered a custom-built log hauler designed to drag storm and tide driven logs off the beach. It's rugged work and the boat required a thoughtful design with heavy construction.
The customer is based in Campbell River and surveys beaches in advance before hauling logs out, and then towing them to their destination. It's a unique use for a boat and, given the Reyse's long history in designing and building aluminum boats, it's no surprise they were sought out for the project.
Wayne Reyse got his start in the marine industry through a somewhat random endeavour with a friend; they invested in an old deep-sea tug. That led him to a job at Shore Boats, a yard specializing in aluminum boat building – mostly large fishing vessels like gill netters and seiners. After that Wayne was hooked; the marine industry is where he wanted to be.
He left Shore and branched out on his own, setting up shop in Surrey. His company built custom aluminum boats, everything from small commuter vessels up to 50-60' commercial boats and pleasure craft. He worked with a variety of local designers and established a reputation for his expertise and quality work.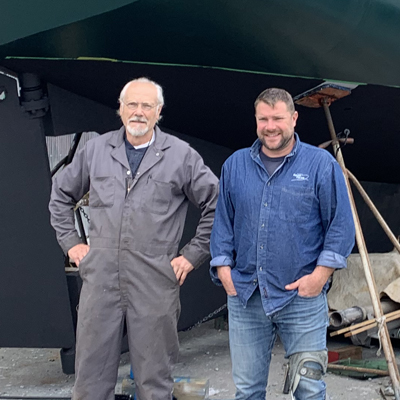 After 15 years Wayne had had enough, he was exhausted by the never-ending demands of the business and needed a break. He and his wife retreated to the Interior of BC for a change of pace that didn't last. The marine industry and the Coast started to call for him.
They headed for Victoria to look for a location where he could set up shop and take on small odd jobs. When he found Canoe Cove and learned that he would have to be working in the marine industry to be located there, his next step was sealed. He established Reyse Marine and diversified the business, which still builds boats but also does small fabrication jobs, maintenance and servicing. Today Wayne's son, Clayton, heads up the business with Wayne's continued support.
"We love being part of the community at Canoe Cove," said Wayne. "There is a diverse and complimentary range of expertise across the yard, and we all work together, help each other out and really enjoy each other. It's a great place to be."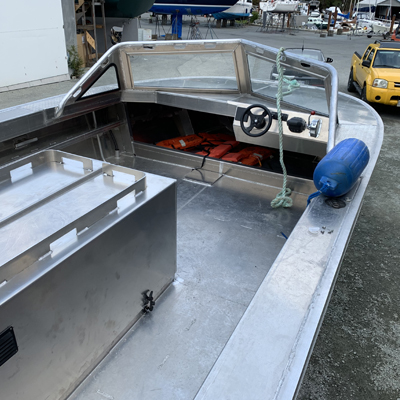 With such an accomplished career in aluminum boat building, Reyse Marine was a natural choice for his customer's log hauler. The boat is tailored for such a specific type of work and has to operate in a unique environment; against rocks, close to shore, and in big waves while pulling a heavy load. Working with the customers specs, Wayne laid out the design. It was a challenging process with the final product measuring 21'6" long with a 9'8" beam powered by a Volvo 440 jet drive so it can operate in shallow water.
The project wrapped up over the summer and the boat was safely delivered to their very satisfied customer in Campbell River.
Wayne and Clayton are proud of the work they do, the community they are part of, and to have the opportunity to work together. Reyse Marine has always been a family business starting with Wayne and his wife, and their daughter is set to join the team shortly.
Reflecting on over 40 years in the marine industry, Wayne has only positive things to say. "I'm thrilled to still be in this industry. I love the challenge – having to design and problem solve, and I love the people. It's great industry to work in and there is so much opportunity."