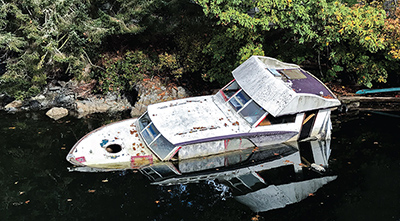 We've all seen them; the beat up and forgotten boats that are abandoned for rot along our beautiful coastline. While the vast majority of BC's boaters are responsible and do the right thing at the end of their boats useful life, unfortunately there remain a few who do not.
It's an issue that has escalated for decades in BC, and one that the federal government has started to address. The national Abandoned Boats Program was launched in 2017 as part of the Oceans Protection Plan. There are a number of initiatives underway to address the issue, one of which was the introduction of Bill C-64 The Wrecked Abandoned or Hazardous Vessels Act, which finally makes it illegal to abandon a boat in Canada.
Of course, in order to hold owners responsible for their vessels, they have to be easy to locate, and the current licensing and registration systems make that difficult for authorities. Transport Canada is currently reviewing these systems with the intent to update them so that they remain current. We can expect to see a charge for boat licensing in future to cover the costs of this new service, and possibly to help fund a national boat removal fund moving forward.
Other federal initiatives include funding to remove boats that are currently sitting abandoned across the country – or at least the worst offenders. To date, those funds have paid for the removal of 111 abandoned boats in BC, and the government recently confirmed they will fund the removal of 37 more. There is also a new data base in development where abandoned vessels can be reported, along with a more streamlined process to report, assess and remove hazardous wrecks.
This is good news for boaters and the boating industry, although it will be years before we see a significant shift in behaviour and enforcement, but the fact that the issue is getting attention and solutions are underway is positive and welcomed by the industry.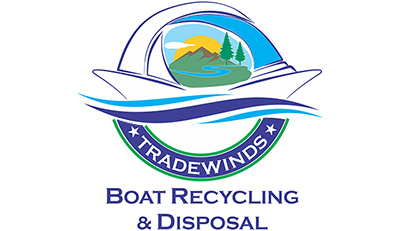 Increased attention to the issue has also created new opportunities for boat disposal businesses; a sector that is largely under-developed in BC. We are very pleased to have Steve Ohman and his new company Tradewinds Boat Recycling & Disposal now operating at the Cove.
"I have a background in automotive dismantling and recycling, and hazardous waste containment and disposal, and have considered getting into this business for a decade," said Steve Ohman, Owner of Tradewinds Boat Recycling & Disposal. "We've just set up business officially this year and so far, so good."
Tradewinds focus is on storm damaged, neglected, unfinished projects, estate boats, boats with unpaid moorage and people who no longer want to care for their vessel – in which case Steve and his team will do their best to find it a new home where it will be properly taken care of and, if that's not possible, they will dispose of it.
Disposing boats responsibly is no easy task – it's important for boaters to understand the process a disposal company uses before making a commitment to ensure it is being handled as environmentally responsibly as possible.
"When we get a new boat, we evaluate it and, if feasible, we'll sell it as-is to someone who has the means to fix it up themselves," said Ohman. "If that's not an option, then we'll remove everything possible from the boat and resell, repurpose, reuse, recycle or donate as much of that as we possibly can. Before the hull is disposed of, we clean and degrease all boats to make sure there are no oils or hazardous materials left on it."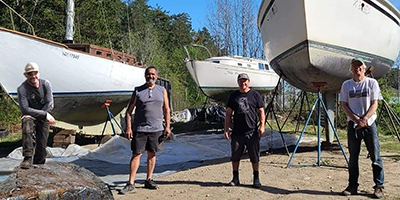 The boat disposal business has grown since Steve first started considering the sector a decade ago. He attributes that to a combination of things: the new legislation, an increase of awareness amongst boaters, an increase in storms that have left boats irreparably damaged and a glut of mass-produced boats from the 1970s and 80s that are coming of age.
Whatever the reason, it seems like the right time to set up shop in this emerging sector of the boating industry and we welcome Steve and his team to the Cove! If you'd like to connect, you can find Tradewinds on Facebook and at 778.512.8731.
If you are looking for additional information about boat disposal, there is an excellent resource at boatingbc.ca/boatdisposal which includes a listing of boat disposal services by region across the province.
Pictured above: Team Tradewinds with three boats recently disposed of at the Cove.