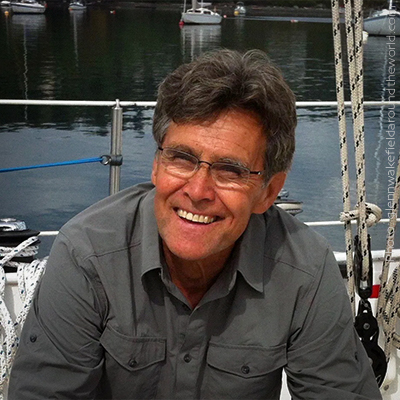 Glenn Wakefield, one of Victoria's most prominent sailors and adventurers, has passed away. A life-long boater, Glenn logged close to 55,000 miles of open-ocean sailing, and attempted to solo circumnavigate the globe three times.
In 2008 during his first solo attempt, and while traveling through the Falkland Islands, a storm capsized his boat causing irreparable damage to it and to Glenn who suffered broken ribs and a concussion. He was rescued by the Argentinian navy and returned home safely.
On September 6th of this year, he set off to return to the location where he was rescued in 2008, and to finish his solo journey. Unfortunately, fate had other plans for Glenn. On September 16th he suffered a stroke, and was rescued and transported first to California and then home to Victoria, where he passed away.
Glenn was a familiar face at Canoe Cove where he often came to work on his boat and share a story or two. He was a larger-than-life figure in the boating community and he will be missed. Our sincere condolences go out to Glenn's family. If you would like to learn more about his story, passion for boating and adventures at sea, you can visit his blog Going Solo.