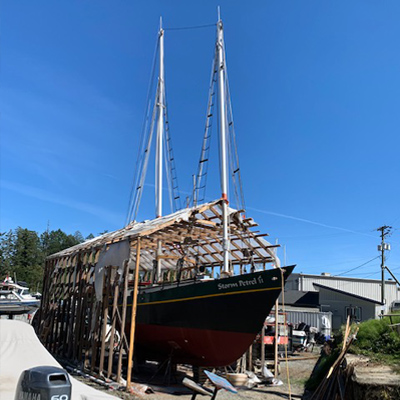 We watched with excitement this week as Storm Petrel II came out of her cover. Bob Dyck and Bev Harrington, her current owners, have been working on her for 10 years. The first three and a half years of work were done while she was in the water and she's spent the last six and half years inside this temporary cover with her masts still up!
Storm Petrel II is a 37' (length on deck), 53' (length overall) Pinky Schooner; a British term for a boat of this design with a narrow stern. She was designed by well-known boat designer Thomas Colvin and built out of steel in the back yard of Lloyd Arntzen and his son Arnt. As a Side note, Lloyd Arntzen was Don Prittie's grade five music teacher at Gleneagles Elementary School out by Horseshoe Bay in West Vancouver (that was more than a few years ago!). The Arntzen's sailed Storm Petrel II for about a decade before she moved along to new owners.
Bob and Bev have undertaken a major refit with work being done on the hull, all mechanical, interior joinery, electronics and all other tanks and systems. As she comes out of cover, there are final details to complete before she is launched. Stay tuned for the full reveal as Storm Petrel II will soon be getting wet!