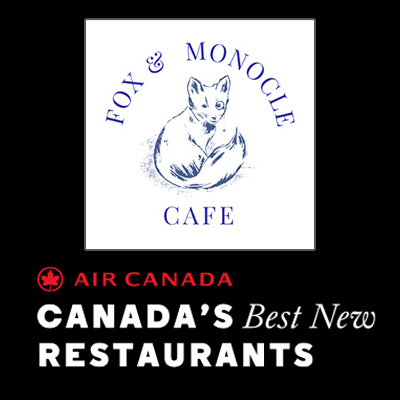 Every year Air Canada enRoute flies an undercover writer across the country to discover restaurants that are reshaping Canada's culinary landscape. Everyone at the Cove would like to congratulate our very own Fox & Monocle, which has made the list of enRoute's top 30 new restaurants in Canada this year! The top 30 will be narrowed down to a top 10 list, and we're cheering Ross and Tracie on in hopes they make the short list!
It's been a few short months since Tracie and Ross opened Fox & Monocle. "It's been a crazy first couple of months," says Tracie. "We are super happy with how well received the café has been."
Business has been steady with a mix of busy and slow days, but overall consistent. Like all knew businesses there has been a learning curve. "Having worked at inner city restaurants most of our careers, we never had to deal with major power outages due to weather," says Tracie. "The day before our opening a storm came through that left us with no power for six hours as we were prepping to open our doors!"
Clearly, it's all gone well and the community at Canoe Cove has played a pivotal role. To everyone Tracie says "Thank you! Thank you for coming daily to support something that has been a dream of ours for many years. Word of mouth travels and it is evident people are talking about Fox & Monocle, and we are extremely grateful for it. Without this communities support we wouldn't be in the position we're in today."
It will be business as usual at Fox & Monocle going into the fall and winter. Business hours will remain as-is with a few exceptions: the restaurant will be closed on September 10th for a wedding and again January 1 through February 13th for a seasonal closure and well-deserved break.