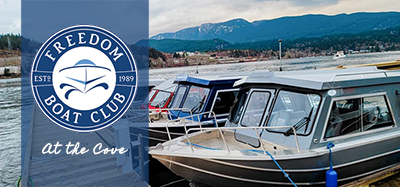 Freedom Boat Club is expanding to Vancouver Island and Canoe Cove is proud to be their first location.
In 2016 Sandy Purdon, armed with a plan for a new and unique business, left Manitoba for BC. He had convinced the president of U.S. based Freedom Boat Club (FBC) that he was the one to open their first international location.
"I had the opportunity to experience Freedom Boat Club in Florida with Dwayne Carter, a friend and former colleague who was a member, and I just loved it; the concept, the vibe… everything about it," said Sandy. "At that time, they hadn't expanded outside the U.S. so I reached out to the president and told him I wanted to open a club in Canada."
He launched his first location in Port Moody with 20 boats and was immediately welcomed by the community. Since then business has grown to include a second location in North Vancouver and a fleet of 31 boats. It's a swift success story with no plans of slowing down. In May Sandy and his partner Shawn Ottenbreit, who owns a FBC in Anacortes, Washington, are branching out to Canoe Cove.
"I always knew this would be our first location on the Island," said Sandy. "It's a unique marina, with a vintage, West Coast vibe that I love. More than that, it's about the people; I've never been more welcomed at any marina than I have by the crew at Canoe Cove."
And the feeling is mutual.
"We're absolutely thrilled to have FBC at the Cove," said Don Prittie, GM at Canoe Cove. "It's an excellent opportunity to get new people on the water, and Sandy and his team have done an outstanding job of pioneering this new model. It's a pleasure to have them here."
How FBC Works
Members of FBC pay a one-time, and then monthly fee to join. Once they're aptly trained, they have access to the fleet any time, and all maintenance, insurance and training is provided by the club. To make sure the experience stays interesting, the fleet is varied; different boats afford members different adventures. From bow riders to fishing boats, there is something for everyone.
"Our members love the Club; they vary from young families to retired folks; some are new to boating and others used to own a boat but no longer want that kind of commitment," said Shawn. "It's an excellent, hassle-free way for people to enjoy boating and the camaraderie of the community without having to own a boat."
Safety is paramount for all FBCs. Members must first have their PCOC and then go through the club's standard training program, which includes one hour in the classroom and three on the water. It includes safety videos, hypothermia awareness and works through a variety of on-water scenarios.
"Our training is unlimited," said Shawn. "We will not stop training members until they feel 100% confident with no uncertainty. It's one of the things people love about the club and helps create a very positive experience for them."
Once trained, members have a world of boating available to them. Every membership includes reciprocal benefits with FBCs 275+ locations globally. For no additional charge, a member can plan a vacation in the US or Europe and reserve a boat at a local club. To make it easy for members, training and the types of boats available are similar across the globe.
FBC offers an easy point of entry for new boaters. It's an opportunity for people to enjoy the boating lifestyle, get confident on the water and understand what kind of boating they enjoy. Many remain members while others leave the club to purchase their own boat. It's a model that fills a gap for the boating industry, and a great way to introduce new people to our community.
"It's really all about community," said Sandy. "Like the boating industry, we are a social club. We have lots of social activities that bring the community together. It's a great opportunity for business people to network, and for friends and families to connect."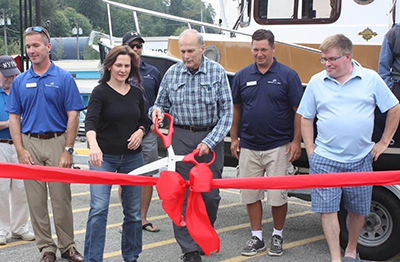 Reflecting on the last five years since he opened the first location, Sandy is proud of the experiences they've enabled for their embers and the community they've created. He remembers fondly his very first members; a couple who reached out to him before he opened the Port Moody location. The husband had been diagnosed with cancer and wanted to enjoy his final chapter to the fullest and saw boating as part of that journey.
"He cut the ribbon at our grand opening and was a big part of the club," recalls Sandy. "He's since passed and I like to think that we were able to help him enjoy his final years. We've had a few members who have joined for the same reason and I'm moved by their stories. More than anything this is all about the people."
Freedom Boat Club will open its doors at Canoe Cove on May 1st with a grand opening to follow in early June. For more information visit freedomboatclub.com
Pictured above: Ribbon cutting at BC's first FBC grand opening, Port Moody