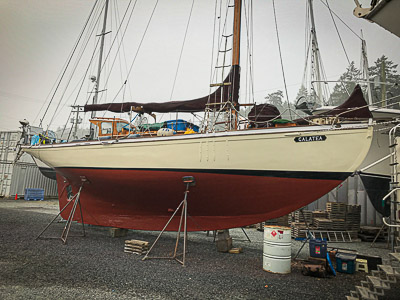 This fall Kevin Campbell brought Galatea, a 40' yawl, to Canoe Cove for her regular haul out and servicing. Galatea's been coming here for regular maintenance since Kevin purchased her in 2006 and, while she is one of hundreds of boats brought to the Cove each year, this one is special.
Galatea was designed by Dr. Thomas Harrison Butler, and built in 1931 by Hugh Rodd, Canoe Cove Shipyard Ltd's founder, right here on the same site we sit today. She has remained in BC for her almost 90 years and has been enjoyed by an estimated 11 owners.
In 1947 she was a contender to win the Swiftsure International Yacht Race but lost her rigging and wasn't able to finish. In the early eighties, in the care of a previous owner, Galatea underwent a significant overhaul, but remains true to her original design. For several years she took her rightful place on display at Victoria's Classic Boat Festival hosted by the Maritime Museum of BC.
Kevin is proud of Galatea's long local legacy. A seasoned mariner, he completed his Marine Repair Technician's certification at Quadrant Marine Institute here at Canoe Cove. He then worked for Jespersen Boat Builders and other service centres to hone his knowledge and skills before moving on to the Canadian Coast Guard where his is now a Commanding Officer in the 47' motor lifeboat fleet.
When Galatea comes in for regular maintenance, the team at the Cove hauls her out but Kevin is qualified to do the maintenance work himself. If he needs a little help, there's no shortage of expertise on site for him to draw on, and the team is more than happy to help.
With regular fall maintenance complete, Kevin looks forward to taking Galatea on a solo adventure around Vancouver Island – a journey they've taken together before. The community back at the Cove looks forward to hearing about their adventures during their next visit home.