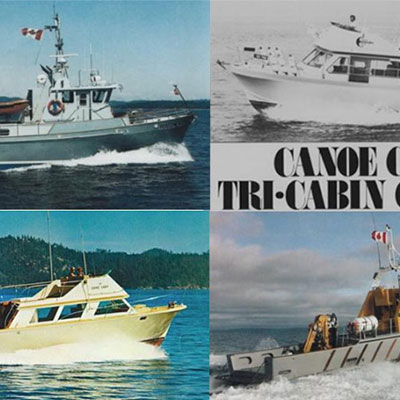 In its move from wood to fibreglass production, Canoe Cove became part of the most significant development in boat–building history.
This article was originally written for Pacific Yachting Magazine and printed in June, 2006.
A visit from two of B.C.'s first fibreglass material salesmen, a chance call from Niagara Finance and a timely tender call for a new Royal Canadian Mounted Police patrol boat launched Sidney's Canoe Cove into fibreglass boat building.
When Canoe Cove started building fibreglass boats in 1959, no one anticipated the Vancouver Island company would become one of the oldest continuous producers of fibreglass boats in the world.
Canoe Cove had been building wooden boats since about 1947. In late 1958, Fred Greenslade, principal of Fibreplast Products, and his salesman Hugh McGee came to Canoe Cove with a fibreglass boat." It was a 28-foot Grenfell design and had been built by the Benson Brothers yard in Vancouver," says Don Matheson, a principal partner of Canoe Cove Manufacturing.
"We knew that Bell Buoy and Reinell were manufacturing smaller fibreglass boats at the time and we thought that fibreglass might be useful for larger vessels," he adds. "Fiberplast, by showing us the 28-footer, was undoubtedly hoping we would start building in glass so they could sell us the material." Shortly after the visit from Fibreplast, Canoe Cove received a phone call from Niagara Finance. Niagara had financed the construction of a fibreglass mold for Victoria builder Microplast Laminates, and had been forced to take ownership of it. "Niagara wanted our advice on how to get rid of the mold," Matheson says. "We had a small wooden outboard powered cabin boat in stock at the time and we traded that for the mold. "It was for a 36 West Coast salmon troller hull and, with a few modifications, we were in a position to turn out a hull suitable for both the pleasure boat and commercial boat markets. We produced 45 hulls from that mold." At about the same time, the RCMP called for tenders for a new Vancouver harbour patrol boat. "Ours was the only bid to provide a fibreglass vessel," Matheson says. "Using the mold we got from Niagara, construction began in 1959 and with the launch of MP59, Canoe Cove's first glass boat, the company was firmly in the fibreglass boatbuilding business."
Matheson, the only original principal of Canoe Cove still with the company, says the advent of fibreglass as a boat-building material is possibly the most significant development in the boat-building industry in the past 100 years. It allowed the industry to begin assembly line production. "In the early days of fibreglass we had to sell the material first before we could sell the boat," Matheson says. "People were used to wood as the boat-building material. They were very suspicious of the new material."
In his ground breaking book on the history of fibreglass boat building, Heart of Glass (McGraw-Hill, 2004), Daniel Spurr reports that in the U.S., sellers of glass boats had the same problem. One U.S. retailer, Carl Beetle, showed the strength of his dingy hulls in typical American style— he shot his demo model repeatedly with his .38 revolver. The bullets didn't pass through the glass. In the 1950s the late Chuck Hourston, of North Vancouver's Hourston Glascraft, also had problems getting boaters to accept fibreglass as a building material. He solved that problem by keeping a large sledgehammer handy, and when anyone questioned the strength of the material, he walloped a dinghy he kept for such a purpose. That usually successfully dealt with the issue. "Within about five or six years, people no longer had any concern about the material and we were able to concentrate on selling the boat," says Matheson. Canoe Cove sold its first glass boat, a John Brandlmayr design, in 1959 for $7,995 and sold two other boats that year. The three boats brought the company $25,000. In 2004 the company sold two boats and generated $1.9 million from those sales.
MAKING HISTORY
Since 1947, Canoe Cove has been building boats in the same Vancouver Island location, known in those days as Canoe Bay. Various builders in the area had been building wooden boats since the U.S. Prohibition era, when the bay was used as a staging area for rum-runners heading off into the San Juans and Puget Sound. The area had been producing both commercial and pleasure craft through the 1930s and 1940s.
In 1958 Tom Fee bought a small yard in the bay and set up to build production boats under the corporate name Canoe Cove Marina Ltd. Matheson, who had been selling marine equipment in Victoria before setting up a boat sales business in Canoe Cove, was involved with Fee right from the start. Canoe Cove's original business model was to build its wooden boats on spec, and if they didn't sell by the start of the boating season they were put out on charter until a buyer was found. Initially the company produced two wooden cabin cruisers, a 26-footer designed by Brandlmayr and a 32-footer by Ed Monk Sr. They also had a 44′ twin-screw motor yacht designed by Dana Ramsey.
After delivery of the first fibreglass boat, Canoe Cove continued to build in wood, but in 1964 it launched its last wooden hull, a Monk designed 48′ salmon troller. By 1965 the company was producing boats almost exclusively for the pleasure boat market—ironic, since its first fibreglass hull went to the RCMP. The core of Canoe Cove's business was based on the original 36′ mold acquired from Niagara Finance—the company sold 45 of these hulls as the Challenger sedan cruiser between 1965 and 1968. These boats were sold as "the largest fibreglass command bridge available," according to the advertising of the day. Boaters could buy these vessels for $27,995 and $33,275 with twin 160-horsepower Perkins diesels. Available options added another $7,000 to the price.
By 1968 the original 36′ mold was beginning to deteriorate and the company decided to produce a new 41′ modified deep-vee designed in-house. The new hull had a 13′ 2″ beam and a 15-degree deadrise at the transom. The design allowed other shorter boats to be pulled from the same mold. One of these boats, the 37′ Crusader Sport Fisherman, launched in 1969, topped out at 29 knots with twin 325-hp Mercruiser inboards. In 1970, Canoe Cove produced what was arguably the boat that made it a household name— the 41′ tri-cabin Coho. "The boat was an instant success," Matheson recalls. "We sold more than 200 of them in the 10 years after the first one hit the water."
With a pair of twin-190hp Cummins, the first Coho stayed true to one of Canoe Cove's traditions— good speed. The vessel topped out at 20 Knots. "We sold these boats into Washington, Oregon, California and U.S. East Coast," Matheson says. "We produced a custom version of that same boat with an enclosed upper bridge for the Southern California market and sold it as the Westporter. This was the forerunner of our current pilot house configuration." The 41-footer quickly gained a solid reputation for easy handling in normal conditions and exceptional capability in rough water.
As the company gained experience, its reputation grew for its glasswork, the quality of its joinery and general fitting-out. "We were producing a well-designed, comfortable hull in a competent, professional manner," Matheson says, "and the market accepted it well. It was a good, honest boat."Coincidentally, with the development of the 41′ Coho design, work began on the 53-footer. "When that mold was completed, we were able to pull our 45s, 48s and 53s from the same tooling," Matheson says. "These complimented our line of both pleasure and commercial boats during the next 20 years."
The company produced both pleasure and commercial vessels from the 53-foot mold, including the search and rescue vessels Black Duck and Albatross. The company produced 36 53-footers in sedan, aft cabin and motor yacht configurations.
In 1973 Tom Fee retired and Matheson, who had managed the business for many years, bought the company with financial assistance from an investor group. He became president and general manager. With 41′ Cohos being launched at the rate of one a month, Matheson saw no reason to make any major changes in the way things were operating. "By 1979 government agencies had purchased more than 50 boats for law enforcement, ferries, search and rescue, maritime patrol and fisheries enforcement, oceanographic tenders and cable layers. Commercial interests bought for use as tour boats, crew boats and charter boats," Matheson says. "For five years, 1965 to 1970, we also produced the 20′ and 25′ Bertrams under licence." MoDeRn PRoDuctIon
By 1979, 20 years after first getting into fibreglass boat building, Canoe Cove launched hull number 500. Since that time the company has produced 260 additional boats. With the Western Canadian economy starting its downhill slide and the American dollar getting stronger, the company began focusing on the U.S. market. That meant design changes to appeal to that market, and retooling the original 41-footer. "More space was needed for larger engines, and prospective owners wanted generators, water makers, freezers and furnaces," Matheson says. "Our 41-footer simply wasn't volumetrically big enough."
The company developed a new 42' hull with a foot more beam than the 41. When the development was completed, Canoe Cove could produce four different lengths—42′, 45′, 47′ and 50'—from the same tooling. By 1989 Canoe Cove wanted a larger hull and eventually found Howard Apollonio- designed tooling in San Diego, from which it built five hulls. The company was able to produce various models from 55′ to 72′. In 1989 and 1992, two Peter Hatfield designed 58′ patrol vessels were built for the Department of Fisheries and Oceans. By 1994 another recession, combined with a U.S. luxury tax on boats costing more than $100,000, resulted in the company having no new build orders on the books. "We did some reorganization at that point," Matheson says. "Since that time, we have concentrated on new construction in the 42- to 50- foot range, with our 47-footer being our best seller. We have also carried out renovations and refits on some of our older models." Current Canoe Cove president Steve Phillips expects to see a 50-percent increase in sales during the next 24 months. "This increase will be driven by improving market conditions and additions to the product line," he says. "We have just launched our new 20-footer—the same size boat that Canoe Cove built under licence from Bertram in the early 1960s."
From their inception, Canoe Cove boats have always had a distinctive look about them. They're modern, yet they don't push the stylistic boundaries. Because of the large numbers produced, they've become "classics" in their own right. Their hulls are designed to operate quickly, safely and efficiently in B.C. waters, and they've become a standard against which new manufacturers are measured.
The oldest continuous builder of fibreglass boats in the world is North Vancouver's Hourston Glascraft. That company started production in 1950 and is still going strong. The oldest glass boat builder in the U.S. is Bellingham's Seasport Boats. Started by a Canadian, its production began in 1955. In 1958, Richmond's Double Eagle began production, and a year later Canoe Cove began building in glass. Both companies are still in production. In heart of glass, Daniel Spurr notes that Hatteras began fibreglass production in 1960, followed a year later by Bertram. Both well-known U.S. builders have continued production to this day.