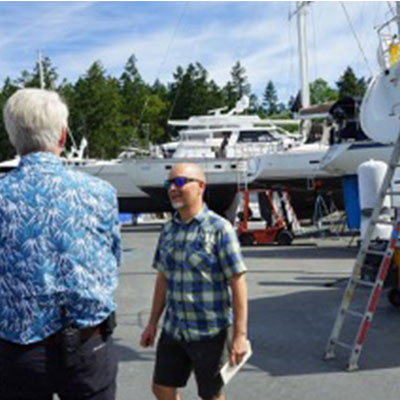 A blog from Adam Olsen, MLA Saanich North & the Islands, June 15, 2019
I grew up on the marina docks in Brentwood Bay. Kicking around the Brentwood Inn and fishing at Jimmy Gilbert's are fond memories for me. A lot has changed since then, but I was brought back to the days of my childhood when my "Championing Local Business" tour stopped in at Canoe Cove.
Tucked into the trees just east of the Swartz Bay ferry terminal is a bustling marina and boatyard. It's home to 19 local businesses that provide a full suite of services to the marine community. They build boats, repair boats, maintain boats and store boats — and their reputation is known worldwide for quality work.
Boats of all shapes and sizes!
When I met General Manager Don Prittie on-site, who also serves as the volunteer Chair of the BC Maritime Museum and Boating BC, he was quick to mention that he still has the sign in his office that reads "No kayaks at Canoe Cove". Well, needless to say that has changed in the 15 years he has managed the property. "We are working to get people on the water, and that includes kayaking and stand-up paddle boarding," he said. If that is you check out Pacifica Paddle.
They are also investing in cleaning up the marina's operations. When I was a kid growing up in the Saanich Inlet, I remember pulling fish bait off the creosote pilings and dropping my hooks through the millions of little styrofoam pellets of decaying floats. In recent years, Canoe Cove has undergone a transformation to improve their impact on the marine environment. Prittie wants to lead by example. $6 million has been invested in replacing the creosote pilings with steel pilings, they now use EnviroFloat (a product made right here on the Saanich Peninsula) and fibreglass grate decking on their main docks.
The boatyard operators are also improving their environmental impact. They now contain and treat grinding and paint stripping residue, repairs and maintenance work that at one time would carelessly pollute air and water. At Canoe Cove they continue to invest over time to improve their impact on the sensitive marine ecosystems that we all have a deep connection with.
The coastal advantage
British Columbia is a maritime province. With thousands of kilometres of coastline, and Indigenous people like the W̱SÁNEĆ here on the Saanich Peninsula, we have an ancient ocean-facing culture. Early Europeans mostly came by boat, continuing the long rich tradition of the maritime economy harvesting the bounty of the sea and travelling the tides.
Today, the boating industry contributes $2.2 billion dollars to our economy. The 125-145 good-paying jobs at Canoe Cove are examples of the potential opportunity for coastal communities in transition. I met a couple who owned the Nomad, a beautiful sailboat registered in Vienna, Austria. They are in the middle of their third circumnavigation of the earth. Their most recent adventure began in 2012 and last year they over-wintered their vessel in Nunavut.
The Nomad is 35-years-old and needs to be constantly maintained. They heard about Canoe Cove and the numerous businesses on-site who provide world-class service by reputation and word of mouth. However, they do as much of the work as they can themselves. The businesses at Canoe Cove provide people this flexibility. So the owners of the Nomad have been here for the past few weeks waiting for a part to arrive and doing some other work while they wait.
Investing in industry
This is just one example of vessels from around the world in various states of repair and maintenance by one of the many operators on-site at Canoe Cove. The biggest challenge the businesses face is getting skilled labour and marine tradespeople. Labour force issues are emerging as one the primary challenges businesses in British Columbia face across multiple sectors.
Quadrant Marine Institute is located at Canoe Cove and is the local industry response to the labour force struggles. They are training apprentices right here and preparing them to work on boats from near and far.
When I asked Prittie about the future of boating in British Columbia, he admits they have to pay keen attention to changing demographics, economics and environmental concerns. However, with a strong partnership with local, provincial and federal governments, supporting boatyards like Canoe Cove up and down our coast can provide sustainable employment for British Columbians and we can continue offering top-quality services to both the local and international boating community. In addition, we will continue a maritime tradition that has been part of who we are for countless generations.