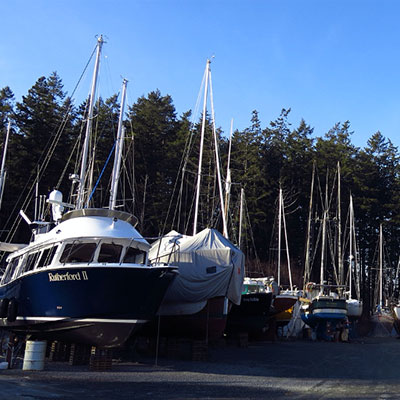 Pacific Northwest live aboard sailors share their experiences spending the winter in the boatyard at Canoe Cove Marina in Southern Vancouver Island
Suzy and Neil Carmody live on board Distant Drummer, a Liberty 458 cutter rigged sloop which they bought in Thailand in 2006. With a background in the oil and gas business, sailing had always been just a hobby until they eased themselves out of the industry, cast off the lines and departed Phuket. Eleven years on and 26,000 nautical miles later, they enjoyed the bounties of the Pacific Northwest. They chose to spend that winter at Canoe Cove and Suzy penned the article below for My Boat Life to share their experience. The Carmody's blog Carmody Clan tells stories of their adventures exploring the world on a cruising yacht and gives some useful tips for living aboard.
We began our trans-Pacific voyage on board our 45ft sailboat Distant Drummer back in June 2015. A year and 10,000NM later we arrived in Sitka, Alaska after a memorable voyage through French Polynesia and the Hawaiian Islands.
It was a glorious summer cruising down through SE Alaska to Juan de Fuca Sound, B.C. but by September we were looking for a place to hole up for the winter in the southern Vancouver Island area.
We wanted to haul-out to get a bit of engine and fibreglass work done, get the auto-pilot fixed and add a couple of coats of anti-foul. We planned to be on the hard for at least three months as we had a two-month holiday in Europe over Christmas to look forward to as well.
We chose Canoe Cove Marina because it had the best winter rates for a three-month minimum period. We would like to share our experience in Canoe Cove and suggest a few tips which have improved our winter living aboard in the boatyard.
Click here for the rest of Suzy's story
Photo: the boat yard at Canoe Cove Marina, January 2016. Distant Drummer is 7th on the right